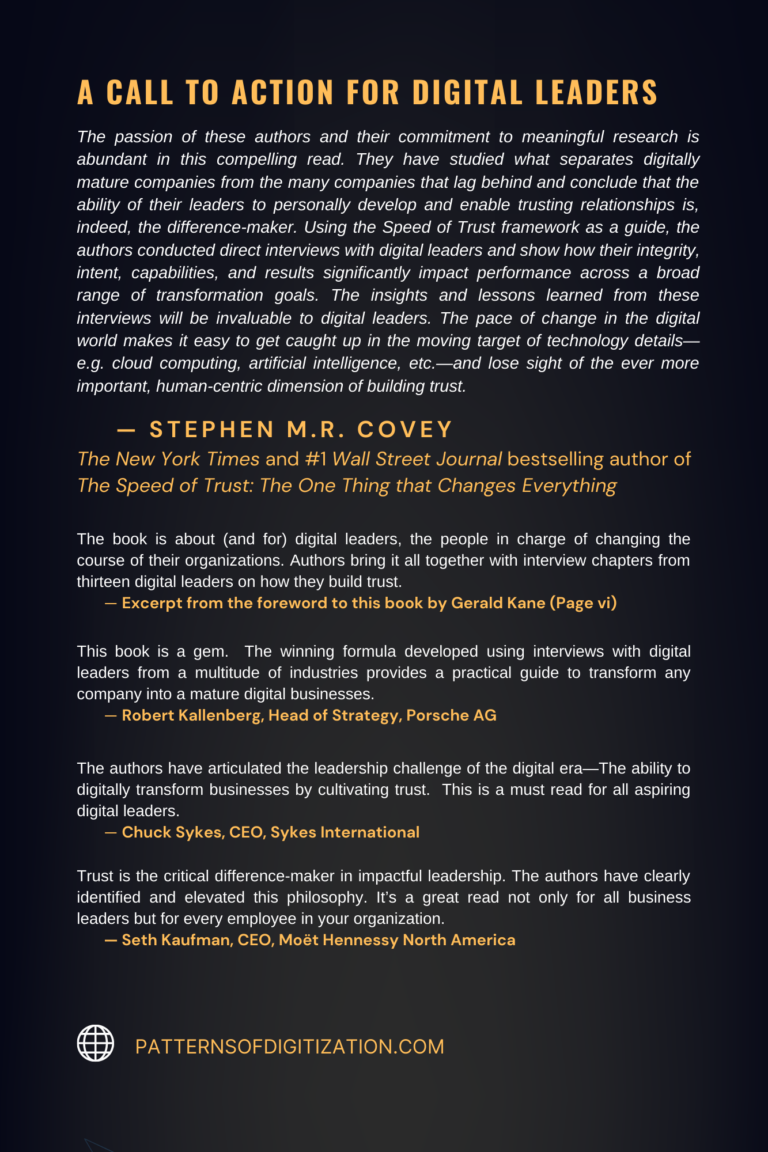 The passion of these authors and their commitment to meaningful research is abundant in this compelling read. They have studied what separates digitally mature companies from the many companies that lag behind and conclude that the ability of their leaders to personally develop and enable trusting relationships is, indeed, the difference-maker. Using the Speed of Trust framework as a guide, the authors conducted direct interviews with digital leaders and show how their integrity, intent, capabilities, and results significantly impact performance across a broad range of transformation goals. The insights and lessons learned from these interviews will be invaluable to digital leaders. The pace of change in the digital world makes it easy to get caught up in the moving target of technology details—e.g. cloud computing, artificial intelligence, etc.—and lose sight of the ever more important, human-centric dimension of building trust.
— Stephen M.R. Covey
The New York Times and #1 Wall Street Journal bestselling author of The Speed of Trust: The One Thing that Changes Everything
The book is about (and for) digital leaders, the people in charge of changing the course of their organizations. Authors bring it all together with interview chapters from thirteen digital leaders on how they build trust.
— Excerpt from the foreword to this book by Gerald Kane
This book is a gem. The winning formula developed using interviews with digital leaders from a multitude of industries provides a practical guide to transform any company into a mature digital businesses.
— Robert Kallenberg, Head of Strategy, Porsche AG
The authors have articulated the leadership challenge of the digital era—The ability to digitally transform businesses by cultivating trust. This is a must read for all aspiring digital leaders.
— Chuck Sykes, CEO, Sykes International
Trust is the critical difference-maker in impactful leadership. The authors have clearly identified and elevated this philosophy. It's a great read not only for all business leaders but for every employee in your organization.
— Seth Kaufman, CEO, Moët Hennessy North America