Trust:
The Winning
Formula For
Digital Leaders
A Practical Guide for Companies Engaged in Digital Transformation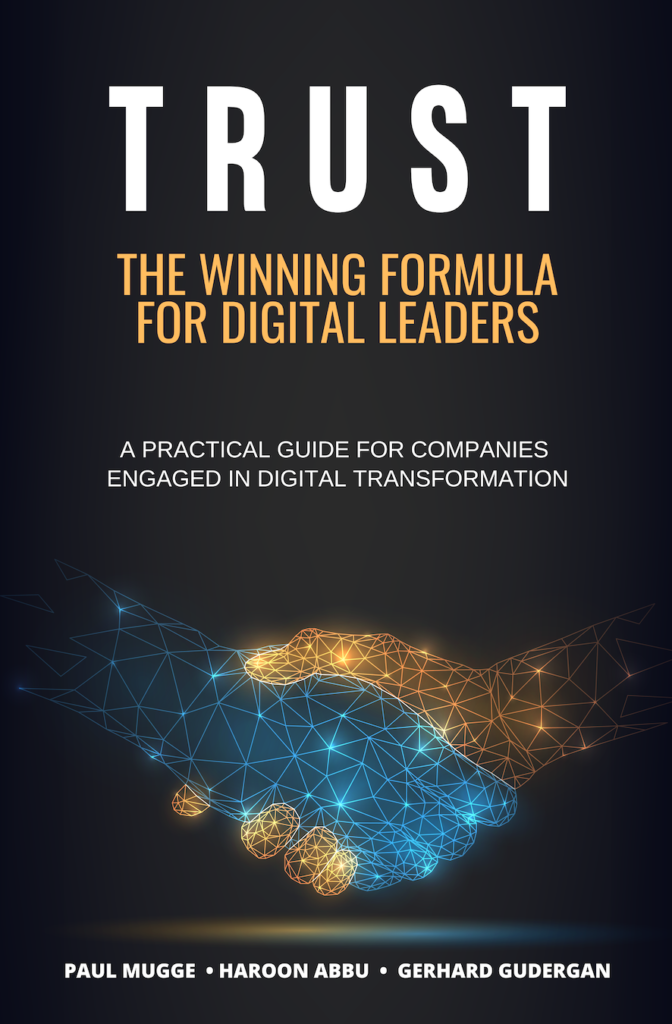 A Call to Action for Digital Leaders
This book is intended help you become a more successful digital leader—and maybe a better person (more about this at the end).
We know you are thinking, I am not the CEO, or even the Chief Digital Officer, I just work in the ranks of my organization, so how can this book help me? Due to a set of existential threats, like the global pandemic, all businesses are frantically trying to remake themselves into being digital businesses. Digital transformation is taking the world by storm—and everyone in the organization is, or will be, touched by it.
We first studied the phenomenon of digital transformation through an extensive survey of global organizations. Called the Patterns of Digitization, the survey examined every aspect of how digital transformation is implemented. We looked at companies' (over 500 of them) business strategies, resource allocation, design practices, etc. We even looked at their "softer" side, like how the leaders actually communicate with employees. What we learned from this is—that no matter what type and size company you are, you fall into 2 different camps. Organizations are either "Digitally Developing" (the far majority), or they are "Digitally Mature". Through this analysis, we learned something else very important: Digitally Mature organizations are managed differently. Their leaders "align human and financial resources with the strategy", "create a collaborative, and nimble development environment", "promote open and transparent communication", and initiate other important activities. (Please see Six Practices of Digitally Mature Organizations under Research menu.)
At the 2020 IEEE International Conference on Engineering, Technology and Innovation, we presented Digital Leadership: Character and Competency differentiates Digitally Mature Organizations Leaders. Through it we show how the character and competency of these leaders (the foundations of trust) help set them and their organizations apart. Our intention was not to laud Digitally Mature leaders, as it was to help lagging companies grasp what is truly involved in implementing a digital transformation and what they need to do to catch up. This has been our "modus operandi" from the beginning.
But just exhorting digital leaders to show more character and demonstrate their competency with digital technologies, is still not enough. To really help them (read you) we needed to go deeper—and academic surveys and papers just don't get it. The jewel of this book is its in-depth interviews with proven, successful digital leaders. And we didn't stop with just exploring their character and competency, we asked them "how specifically" they build trust through their intentions, integrity, capabilities and results. Of course, these are the "four core values" of Stephen M.R. Covey's Speed of Trust framework and the basis of the book's 20-question Interview Guide.
Now, enjoy the book and see for yourselves how these leaders rely on these very humancentric actions—along with the trust and respect of their people—to lead very aggressive and very complex digital transformations.
THE NEW YORK TIMES AND #1 WALL STREET JOURNAL BESTSELLING AUTHOR OF THE SPEED OF TRUST: THE ONE THING THAT CHANGES EVERYTHING
"The passion of these authors, and their commitment to meaningful research is abundant in this compelling read. They have studied what separates digitally mature companies
—
from the many companies that lag behind
—
and conclude that the ability of their leaders to personally develop and enable trusting relationships is, indeed, the difference-maker. Using the Speed of Trust framework as a guide, the authors conducted direct interviews with digital leaders, and show how their integrity, intent, capabilities, and results significantly impact performance across a broad range of transformation goals. The insights and lessons learned from these interviews will be invaluable to digital leaders. The pace of change in the digital world makes it easy to get caught up in the moving target of technology details— e.g. cloud computing, artificial intelligence, etc.—and lose sight of the ever more important, human-centric dimension of building trust."
Author of "The Technology Fallacy: How People are The Real Key to Digital Transformation"
"
The book is about (and for) digital leaders, the people in
charge of changing the course of their organizations. The authors have studied
companies undergoing digital transformation and concluded that character and
competency of their leaders differentiates Digitally Mature organizations from
Digitally Developing organizations. They bring it all together with interview
chapters from fifteen digital leaders on how they build trust. The authors have the credibility to tackle this task. They have considerable industry experience and have spent years studying the perils, and triumphs, of companies engaged in digital transformation. They have seen these transformations first hand. More importantly, they have engaged directly with the digital leaders they have featured. They know what makes these leaders tick.
Thought-Provoking Interviews With Thirteen Digital Leaders
CEO, Sykes Enterprises
Look Outside to Re-assess Your Business Model First
CEO, Dialego
Shape Digital Proactively!
CEO, Bell & Howell
Fueling a Startup Culture and Entrepreneurial Mindset
Director Strategy & Organization, Porsche AG
Much more is possible than anybody thought before
Owner & Operator, Flying Farmer LLC
The Trials of Launching a New Digital Business for Family Farmers
Principal Key Expert and Founding Member of the T-Club, Siemens Healthineers
Transformation "Evangelists" are Vital!
President & CEO, Moët Hennessy North America
Soft Skills from a Leadership Perspective Can Be the Difference-Maker
Former Global Leader & Industry CTO of Data Science and AI, IBM
Stop Experimenting with AI—Scale It!
VP, Head of Digital, Data, Analytics, Zoetis Inc.
Be Flexible, Learn to Lead from the Front—and from Behind—When Transforming Large, Established Organizations
CEO, Talbot New Energy AG
Listening Is the Key for Transformation
Executive Vice President, Digital Transformation Solutions, PTC
Digital Accelerates and Magnifies Traditional Metrics of Running a Business
CEO, 3WIN
Be Flexible, Learn to Lead from the Front—and from Behind—When Transforming Large, Established Organizations
Managing Director and Global Lead for Visual Data Science, Accenture AI
AI-Powered Enterprises Require Visual Analytics